Do you have a repair shop you bring your out of warranty car to that works faster than the dealership? It is priced better and maybe you even know the owner by their first name? Maybe you have his cell phone saved in your phone. The shop still uses the exact parts for your vehicle, gets the job done and is extremely convenient. That repair shop is independent. This is exactly what we do, and our reviews show that we provide top notch personalized service while using OEM parts directly from the Sub-Zero & Wolf parts distributor. We pride ourselves on being the best at what we do, and we attribute that to being independent!

Certified Refrigeration is not affiliated with Sub-Zero Inc. We are a highly rated service business with over 40 years experience. We use our Sub-Zero parts distributor to source parts and fix your machine properly. We do not fulfill factory warranty work for the Sub-Zero Group. If your unit is under warranty we defer to the Sub-Zero Website.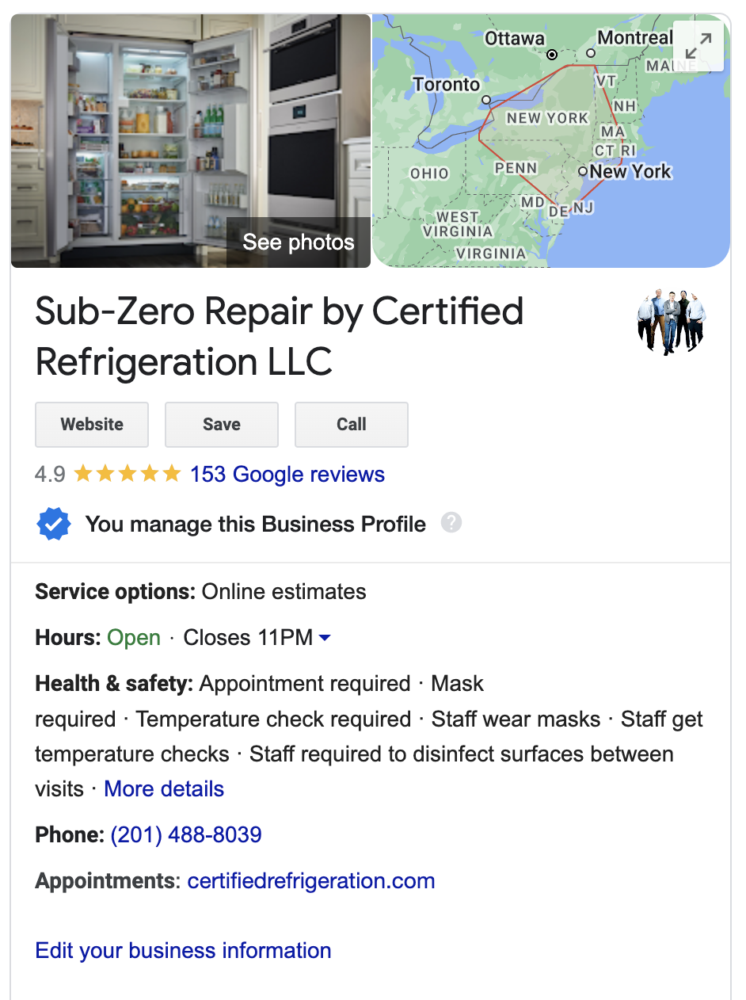 We Make a Difference.
Compare our reviews to any servicer in your area, and you tell us who you prefer to use for a quick repair on your appliance. Not only do we provide faster, more personalized service to our customers in NY & NJ, we often save you money and time by offering home remedies and simple repair tips. We are open longer hours, the owner responds to service inquiries later into the evening and we even work weekends! We arrive fully equipped with our service vehicles loaded with the most common repair parts and fix 99% of these appliances in one trip. On top of all of that, we offer rock solid guarantees on every job we do.

You won't find a better service experience.
Your Factory Warranty is Important. Learn about it.
Your Sub-Zero has a factory warranty. You should utilize this when you can, it will save you money on repairs that are under warranty. It's basically structured like this:
2 Year Full Warranty- Everything is under warranty for two years, If your machine is less than two years old, use the factory warranty, it will be a great benefit to you.
What this means: Two Years after installation, your machine loses its warranty on ice makers, fans and all electronic and moving parts out of the sealed system. Your sealed system ie: your compressors, refrigerant lines, evaporators etc are still under warranty.
5 Year Sealed System Warranty- For five years from installation your sealed system is under full warranty. If a compressor goes bad, or if you develop a refrigerant leak, you will be covered by Sub-Zero. This does not cover fans, ice makers, electronic components, door gaskets or hardware etc, these are fully out of warranty at this point.
12 Year Partial Sealed System Warranty- For up to 12 Years after installation, Sub-Zero will reimburse you for the part and you will pay for labor associated with the repairs to your sealed system only.
Use this form to get a quick response from our team!